NEMESIS Termite Bait Systems
WHY CHOOSE NEMESIS Baiting System
NEMESIS is an Australian termite bait system designed to attract and eliminate termite colonies in a safe non-invasive way. It uses an insect growth regulator (IGR), Chlorfluazuron, as the active constituent in the Nemesis bait. Active termites feed on the highly attractive bait food source & translocate the IGR to other members of the colony, at levels undetectable by those termites, until the colony collapses. Nemesis termite bait is a registered product under the requirements of legislation administered by the Australian Pesticides and Vetinary Medicines Authority.
The system uses a number of unique stations for in ground & above ground interception of active termites.
First a professional pest manager will inspect your home for termites, and if they are found or if the risk of possible activity is high, the Nemesis termite bait system will be recommended.
If termites are found, Nemesis above ground stations are placed directly over the active areas; this engages the termites and results in faster colony elimination.
Otherwise, Nemesis in ground stations are deployed around the perimeter of your home. Termite attractive timber inserts are placed inside these external stations and are monitored on a regular basis for termite activity.
Why should I choose THIS system?
The NEMESIS Termite Monitoring and Baiting System:
Is an effective solution that is less invasive or disruptive as a treatment process compared to more traditional chemical methods?
Greatly reduces the risk to non-target insect or animal species, by targeting termite colonies.
Reduces the risk of environmental damage, especially compared with chemical treatment methods.
Can be used either as a localised treatment to a specific area of your home, or as a full installation to the perimeter.
Can be applied to other structures on your property, such as sheds, gazebos, decking or fences.
The cost of any treatment required to obtain lasting termite control will be determined by a range of factors including the size of your home, extent of any existing infestation and its location within your home, the species of termite encountered, pressure from termite nests within range of your home, frequency of property inspections required by you, and system installation requirements- e.g. monitoring station installation underneath concrete paths or patios will be more time consuming than in a garden. These factors should be discussed with you and your chosen pest manager prior to making any decision on a treatment.
Call Evergreen Pest Management for a free quote.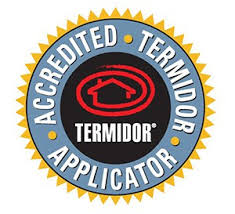 Accredited Termidor HE Applicator
Advanced pest control operators who have chosen to specialise in providing the best available treatment.
Upgraded training to ensure highly efficient installation of an enhanced treated zone with minimal disruption.
Evergreen Pest Management
Phone: 0409 849 452
Evergreen Pest Control SERVICES AREAS
GOLD COAST PEST SERVICE AREAS
NORTHERN NSW PEST SERVICE AREAS
What People Think About Us
Thanks to Evergreen Pest Control Cabarita who spotted the beginning signs of termites we were able to have them treated and the termites eradicated before they did any real damage.
we had an ant infestation that was driving us crazy!! Stu from Evergreen Pest went above and beyond to find where they were coming in and found their nest and stopped them dead in their tracks!!
I was recommended to use Evergreen Pest by my co-worker. I needed emergency help because of a bad attack of insects- especially ants and cockroaches, and they helped me to resolve this problem so quick! I'll definitely be recommending them!