Termidor -The best protection against termites
Termites are a threat to homes all over the Tweed heads, Tweed Coast , Gold Coast,  Byron Bay, Northern NSW areas and the rest of Australia. Evergreen Pest Management are accredited Termidor  Applicators and therefore you are covered by Termidor's $2 Million dollar Assurance Warranty, which covers your home for structural damage up to $2 million when Evergreen Pest Management protects your home with the Termidor Termite Treatment.
Our homes are often not only our largest investments – but also the centre of family life, something that you don't want to be at risk. Therefore if your home contains any structural timber – like a timber frame, timber trusses in the roof, timber flooring or a deck – termites could eat it away until it collapses.
That's why a relatively small investment in vital termite protection for your most important asset is so worthwhile. And why you should insist on the best treatment available.
Evergreen Pest Management and Termidor offer Long-lasting effective Termite protection
If you act before termites do any damage, making your home safe is simple. Evergreen Pest Management will quickly create a highly effective protection zone that provides lasting peace of mind. If termites are already actively attacking your home, Evergreen Pest can provide fast and very effective solutions that will eradicate the termites rapidly and clear the way to install lasting protection.
Over the last 15 years, Termidor and Evergreen Pest has kept thousands of Tweed heads, Tweed Coast , Gold Coast,  Byron Bay, Northern NSW homes safe from termites without a single product failure.
Call Evergreen Pest Management to book a termite treatment and protect your home.
The Genuine Termidor Transfer Effect
Another key advantage of termites' inability to detect Termidor is that they carry it back to the nest on their bodies and pass it on to other termites – the devastating Genuine Termidor Transfer Effect.
Termites are social insects that live together in large colonies and feed and groom each other. So termites that have come into contact with Termidor soon pass it on to others. Even those secondarily affected termites can also pass Termidor on through feeding or contact.
Termidor can control whole termite populations faster than any other treatment, but it is relatively slow-acting in individual termites. This means termites have ample time before dying to spread Termidor to their nest, and the entire colony.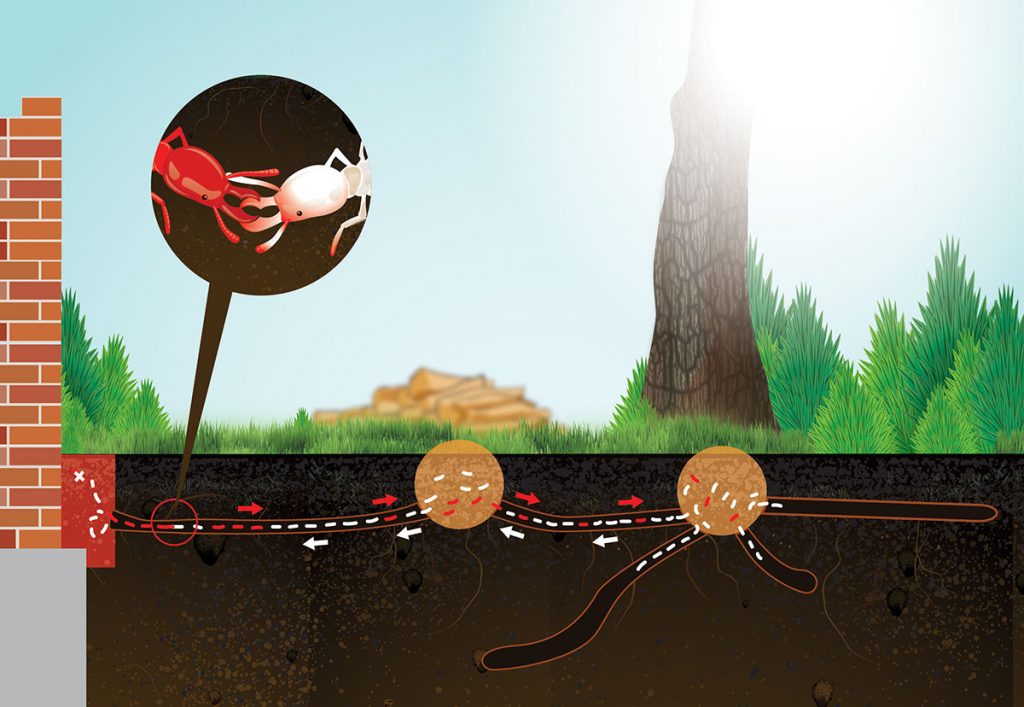 A new level of effectiveness
Termidor HE is an advanced formulation of the same extremely powerful active ingredient that has made the original Termidor products the most trusted and effective termite treatments.
Termidor HE spreads much further through the soil than older treatments to create a more even and effective protective zone termites cannot avoid.
Termidor HE binds strongly to organic matter in the soil and, as long as the soil isn't disturbed, stays in place for years. So it's not just superior protection at the start. It goes on providing the highest level of protection year after year.
A new level of convenience
The advanced technology in Termidor HE gives your Accredited Termidor Applicator more scope to provide a superior treatment without cutting corners or disturbing the structure and damaging the aesthetics of your home.
The increased movement of Termidor HE through the soil means there is much less likely to be any need to drill through tiles, and that treatment won't be compromised by obstacles like underground pipes.
The end result is a more effective protection zone that can leave your home looking just as it did before.
That's more convenient for you and your family.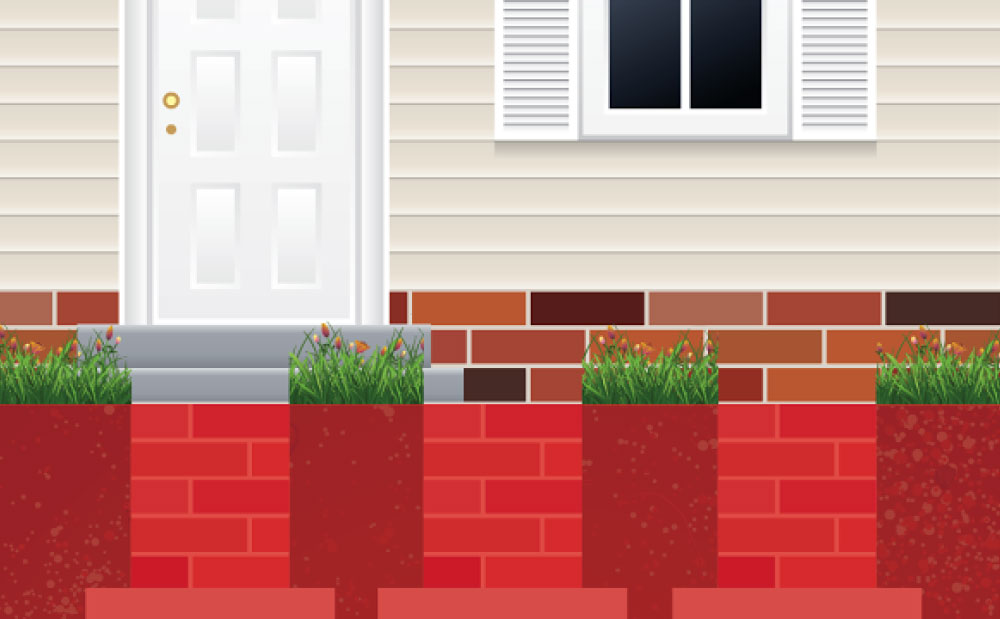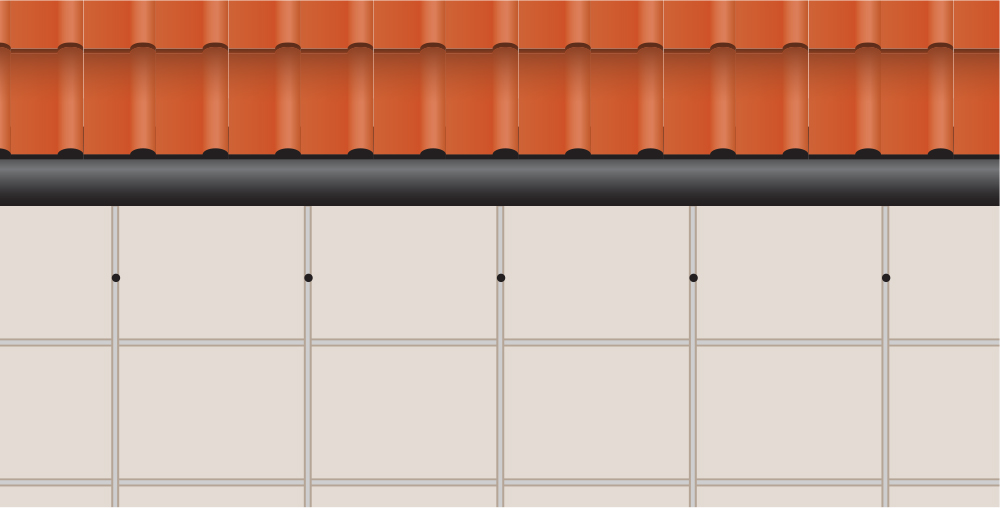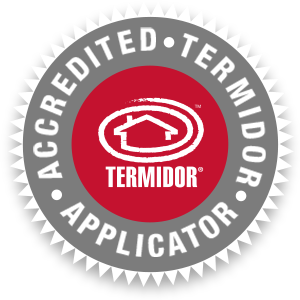 Accredited Termidor HE Applicator
Evergreen Pest Management operators are advanced pest control operators who have chosen to specialise in providing the best available treatment.
Our training has been upgraded to ensure highly efficient installation of an enhanced treated zone with minimal disruption.
 We are registered professional operators fully trained in accurate Termidor treatment.
Only genuine Termidor products will be used, with the backing of the Termidor Assurance Warranty.
Evergreen Pest Management
Phone: 0409 849 452

Evergreen Pest Control SERVICES AREAS
GOLD COAST PEST SERVICE AREAS
NORTHERN NSW PEST SERVICE AREAS
What People Think About Us
Thanks to Evergreen Pest Control Cabarita who spotted the beginning signs of termites we were able to have them treated and the termites eradicated before they did any real damage.
we had an ant infestation that was driving us crazy!! Stu from Evergreen Pest went above and beyond to find where they were coming in and found their nest and stopped them dead in their tracks!!
I was recommended to use Evergreen Pest by my co-worker. I needed emergency help because of a bad attack of insects- especially ants and cockroaches, and they helped me to resolve this problem so quick! I'll definitely be recommending them!